My wife and I received our second Moderna vaccine doses on Sunday morning. Out of an abundance of caution, I decided to take yesterday off from the day job, as I'd heard there was a strong possibility of side-effects on the day following the injection. After the first dose, my only issue was tenderness around the injection site.
Turns out, I didn't have anything more significant than that from the second dose, either. A little ringing in my ears when I woke up yesterday morning and a mild headache. Maybe a little less energy than usual. My wife, though, woke up a little after midnight shivering from chills. I dug out her heating pad and that seemed to help, although it took a good half hour for the tremors to subside. She experienced flu-like symptoms (fever, muscle ache, general malaise) for most of Sunday morning into the afternoon, but not bad enough to keep her out of circulation.
Today, two days out, all seems to be fine. In a little less than two weeks we will be fully immunized and ready to, perhaps, emerge from hibernation a little. We're not going to go to the movie theater or dine indoors at restaurants, but we might go see dentists and eye doctors and all the other routine things that we've been shunning this past year.
---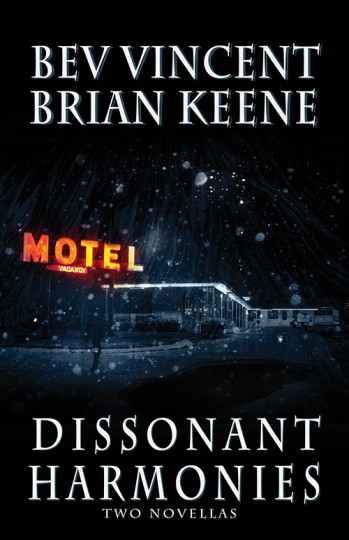 Cemetery Dance Publications announced the release of the trade paperback edition of Dissonant Harmonies this week. This is my collaboration with Brian Keene, a two-novella collection that includes my story "The Dead of Winter." It's in-stock at CD now and can also be ordered from Amazon. An eBook edition is also forthcoming.
Inspired by specially curated mixtapes, Bev Vincent and Brian Keene present two new spine-chilling novellas...
As a blizzard descends upon the sleepy town of Bayport, Rhode Island, brothers Joey and Frank Shaw investigate the mysterious disappearances of several townsfolk. After the discovery of strange tunnels, tunnels that only Joey can see, the trio suspect something is lurking beneath the snowbound town. Something burrowing. Something hungry. And it looks like Joey might be next in The Dead of Winter.
Did you imagine the world vanishing to a flood or a comet, the hand of God or nuclear war? What if it started with something as innocuous as the Berenstain Bears, and something known as the Mandela Effect? Barricaded in a seedy motel room, one man makes sense of love, loss, and life as the end of the world looms. Do you see what he sees? Do you know what he knows?
Since the book was inspired by our respective playlists given to each other for inspiration, I set up a Spotify playlist featuring many of the songs that inspired this book. The first 24 tracks are the songs I gave to Brian (plus a few B-sides that didn't make the cut), although there are a few substitutions because not all the songs I picked are on Spotify. The last 16 tracks are the ones Brian Keene sent to me.
I'll be reading from my novella at Brian Keene's Clubhouse on Monday, April 5 at 7 PM Central. Check out my Facebook or Twitter feeds for links as we get closer. You have to have an invitation to this new social media platform and I'm not entirely sure how that works yet.
I recently did a podcast interview with Lou Sytsma, which you can listen to here, and a two-part video self-interview for Stephen King Italia that you can find here: Part 1 | Part 2.
---
Recent movies: We enjoyed (with subtitles) Attack the Block, the British alien invasion movie from a decade or so ago. Then Minari, which is a terrific "American Dream" film about a Korean family who move to Arkansas to fulfill the father's dream of growing Korean vegetables for fellow immigrants. It's full of the ups and downs of ordinary life and is thoroughly charming. Then we saw The Father, starring Anthony Hopkins and Olivia Colman. A very disorienting film told essentially from the perspective of a man suffering dementia. It's hard to say we enjoyed it (I don't think we were meant to enjoy it), but the performances are terrific.
Streaming: I finished WandaVision, which was highly entertaining and I'm well into Season 3 of Lost. We enjoyed the second season of Staged (Hulu), and finally got to see 63 Up (Britbox) and the companion documentary 7 Up and Me (Amazon). We've been following the series since 42 Up and have been waiting for the most recent installment to make it to America. Last night we watched the first two episodes of Ginny and Georgia, which is like The Gilmore Girls if Rory and her mom didn't have wealthy benefactors.
Reading: finished two terrific thrillers (Find You First by Linwood Barclay and Lola On Fire by Rio Youers) and currently well into Dream Girl by Laura Lippman. The latter will ring some bells with Stephen King fans -- I'm thinking particularly of Misery and "Secret Window, Secret Garden."